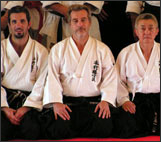 In 1995 in Milan he meets for the first time, through the practicing of traditional JuJutsu under the M° STELVIO SCIUTTOof Genova, the M° KYOICHI INOUE, present SOKE of Hontai Yoshin Ryu.
In 2000, he moves to Latina, attends the Trainer Course of Judo and achieves theI° Dan in 2002.
He practices Aikido under the M° ADORNATO of Rome, achieves the I° Dan with Training Qualify, the II° Dan Instructor at the CSEN federation in 2007 and in 2010 the III° Dan.
In 2004, with the III° Dan in JuJutsu, he attends the JuJutsu and Judo Instructor Course at the PalaFijlkam of Ostia with positive results.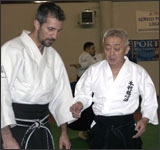 In February 2005 he goes to Japan at the HOMBU DOJO of Hontai Yoshin Ryu and achieves the SHODAN directly from the 19thSOKE INOUE KYOICHI MUNENORI. He returns to Japan in 2007.